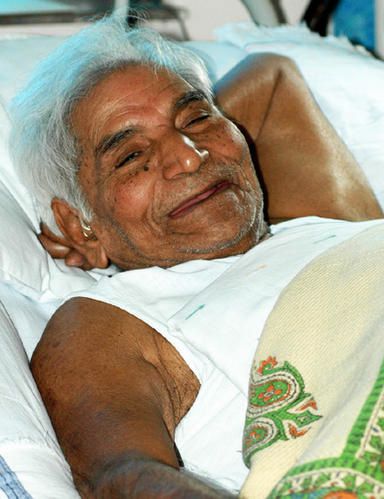 Murlidhar Devidas Amte, (26 Décembre 1914- 9 Février 2008), a rejoint l'autre monde aujourd'hui à 94 ans, suite à un cancer su sang.


Baba Amte est né à Hinganghat dans une famille riche mais touché par la pauvreté autour de lui, il dédie sa vie à la justice sociale.
Il s'est consacré corps et âme à la réhabilitation des lépreux, à ouvert un centre de traitement et n' a pas hésité à donner son corps pour des tests médicaux.
Il a également veillé a protéger l'environnement en s'impliquant dans des campagnes.

Il a reçu de nombreuses récompenses:
International Awards

Damien-Dutton Award, USA, 1983: Highest international award in the field of leprosy
Ramon Magsaysay Award for Public Service, Philippines, 1985
United Nations Human Rights Prize, 1988: For outstanding achievement in the field of human rights (to commemorate the 40th anniversary of the Universal Declaration of Human Rights)
International Giraffe Award, USA, 1989
The Templeton Prize, USA, 1990: popularly known as the "Nobel Prize for Religion"
Global 500, United Nations Environment Program (UNEP), 1991: The Roll of Honour for Environmental Achievement
The Right Livelihood Award, Sweden, 1991: For vision and work contributing to making life more whole, healing our planet and uplifting humanity (popularly described as the alternative Nobel Prize)
Awarded by the Government of India
Padma Shree, 1971
Padma Vibhushan, 1986
Welfare of the Disabled, 1986
Gandhi Peace Prize, 1999
Dr. Ambedkar International Award for Social Change, 1999: In recognition of outstanding work done in pursuing the cause of the exploited and the underprivileged, reconciling differences among conflicting social groups and contributing significantly to social change
Distinctions
D.Litt., 1980: Nagpur University, Nagpur, India
Krishi Ratna, 1981: Hon. Doctorate, PKV Agricultural University, Akola, Maharashtra, India
D.Litt., 1985-86: Poona University, Pune, India
Desikottam, 1988: Hon. Doctorate, Vishwabharati, Shanti Niketan, West Bengal, India
Other Awards
Bharathvasa award,2008:bharathvasa
Dalit Mitra Award, 1974: Government of Maharashtra
Rashtriya Bhushan (Pride of the Nation), 1978: F.I.E. (India) Foundation
Jamnalal Bajaj Award, 1979
N.D. Diwan Award, 1980: National Society for Equal Opportunities for the 'Handicapped' (NASEOH), Bombay
Ramshastri Award, 1983: Ramshastri Prabhune Foundation, Maharashtra, India
Indira Gandhi Memorial Award, 1985: Government of Madhya Pradesh for outstanding social service
Raja Ram Mohan Roy Award, 1986: Delhi
Fr. Maschio Platinum Jubilee Award, 1987: Bombay
G.D. Birla International Award, 1988: For outstanding contribution to humanism
Mahdeo Balwant Natu Puraskar, 1991, Pune, Maharashtra
Adivasi Sewak Award, 1991, Government of Maharashtra
Kusumagraj Puraskar, 1991
Dr. Babasaheb Ambedkar Dalit Mitra Award, 1992, Government of Maharashtra
Shri Nemichand Shrishrimal Award, 1994
Fr.Tong Memorial Award, 1995, Voluntary Health Association of India
Kushta Mitra Puraskar, 1995: Vidarbha Maharogi Sewa Mandal, Amravati, Maharashtra
Bhai Kanhaiya Award, 1997: Sri Guru Harkrishan Education Trust, Bhatinda, Punjab
Manav Sewa Award, 1997: Young Men's Gandhian Association, Rajkot, Gujarat
Sarthi Award, 1997, Nagpur, Maharashtra
Mahatma Gandhi Charitable Trust Award, 1997, Nagpur, Maharashtra
Gruhini Sakhi Sachiv Puraskar, 1997, Gadima Pratishthan, Maharashtra
Kumar Gandharva Puraskar, 1998
Apang Mitra Puraskar, 1998, Helpers of the Handicapped, Kolhapur, Maharashtra
Bhagwan Mahaveer Award, 1998, Chennai
Diwaliben Mohanlal Mehta Award, 1998, Mumbai
Justice K.S. Hegde Award, 1998, Karnataka
Baya Karve Award, 1998, Pune, Maharashtra
Savitribai Phule Award, 1998, Government of Maharashtra
Federation of Indian Chambers of Commerce and Industry Award, 1988: FICCI, for outstanding achievements in training and placement of disabled persons.
Satpaul Mittal Award, 1998, Nehru Sidhant Kendra Trust, Ludhiana, Punjab
Adivasi Sevak Puraskar, 1998, Government of Maharashtra.